Main Page / News
BrickStore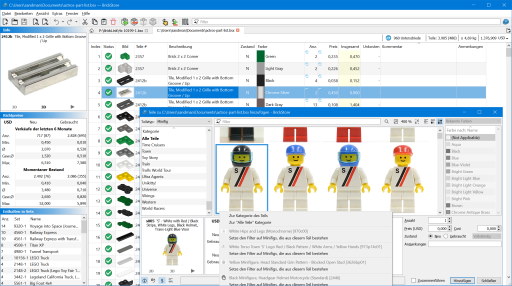 BrickStore is a BrickLink offline tool. It is multi-platform (Windows, Mac OS X and Unix), multilingual (currently English, German and French), fast and stable.
An installer for the newest stable version is always available on GitHub:
Actros 4150K LDraw model
After more than a year I have finally finished drawing my Actros 4150K with MLCAD. All pneumatic hoses and electric wires are currently missing. This will most probably not change in the near future, since modelling of these parts is not trivial even with LSynth.
The model consists of approx. 4000 parts
All sub-models are divided in building steps and it would be possible to generate building instructions using LPub.
Click here to download the LDR files (including a BrickStore part list)
Please note:
You need some unofficial parts - the best thing would be to install all [unofficial parts] (http://www.ldraw.org/library/unofficial/ldrawunf.zip).
Also two modified parts are used for the steering (red parts in the model):

One *Gear rack 1 x 4( (3743) has to be sawn into two Gear racks 1 x 2.
One Liftarm 1 x 3 x 0.5 (6632) might have to be sanded down a bit.